Archive for the 'Carribean' Category
Friday 23 March 2007 @ 8:14 am
Turks and Caicos Islands -  surrounded by one of the most extensive coral reef systems worldwide (65 miles across and 200 miles long).  
A 22 mile-wide channel, the Turks Island Passage, separates the Turks Islands from the Caicos Islands. This 7,000 foot deep passage is used by migrating Humpback Whales, Spotted Eagle Rays, Manta Rays, Turtles and Dolphins.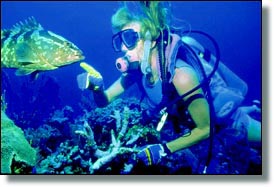 Excellent visability (up to 60 metres), pristine reefs, abundant fish, tropical flora, fauna and other marine life, quality diving services and easy conditions make the Turks and Caicos Islands a top class diving destination. There is amazing wall diving starting in shallow turquoise water and dropping rapidly into the deep blue. Shipwrecks, old and new further increase the fascination of the islands as an outstanding diving destination.  
Divers have been coming here for years to see the dramatic sheer and sloping walls with excellent visibility from 100 (30 meters) to 200 feet (60 meters), water temperatures ranging from 74 degrees F (23 C) in winter to 85 degrees F (30 C) in the summer.
Providenciales also known as "Provo" is the main center of tourism. Grace Bay, a 12 mile stretch of pristine white sandy beach, is home to the majority of the resorts. The Princess Alexandra National Park starts just to the west of Grace Bay and extends to the east all the way to Little Water Cay. There are about 18 dive sites, most with permanent moorings, just outside the barrier reef of Grace Bay. A quick 15 minute boat ride will take you to the diving sites from Turtle Cove Marina. There are mini walls, spur and groove formations as well as shallow canyons that make these sites ideal for beginner divers and those looking for a shorter day.
Some of the best dives sites are Grouper Hole, Piranha Cove, Cathedral and Aquarium. Table Top is a shallow dive site at 25 feet and is also a popular snorkelling site.
Fort George Land and Sea Park is also very popular for snorkelling. There are several swim-through and grotto like areas fantastic for viewing sea life and coral formations for non-divers.
Snorkel divers can see cannons from a 1790s British fort now submerged near shore in only four to five feet of water. The most popular dive sites are Eagle Ray Pass, Football Field and 50 Yard Line. These sites are best known for schooling eagle rays, sharks passing through the cut and large specimens of boulder, star and brain corals. The boat trip is approximately 35 minutes from Turtle Cove Marina on the north side of Provo.
Friday 10 November 2006 @ 12:28 pm
Somewhere not far north of Soufriere lies a fascinating area for snorkel divers.
In this geothermal region if you swim out to the correct spot about 20 yards offshore you can find the Champagne pools. Here bubbles are streaming up from the sea bed. If you swim down to 3m depth yo uwill find the shimmy from hot water vents between the rock. This is an absolutely amazing dive. It can be tricky to find, but any of the dive operators in Soufriere should be able to give you directions.
Check out this footage, but I must point out that the bubbles were a lot more active when I last visited:
Wednesday 8 November 2006 @ 1:36 pm
Anse Chastanet Resort, a babe resort and home to SCUBA ST LUCIA – just steps from the water. Perfectly set up for both beach and boat dives, Scuba St. Lucia offers guests gear storage; a well equipped scuba store; three compressors; rental dive gear and an underwater Photo and Video center.
Just 10 meters beyond the water's edge, the reef's remarkable ecosystem offers an amazing profusion of unusual tropical marine life, in 20 to 140 feet of calm, clear water.
Anse Chastanet Reef makes for an amazing dive day or night. Just 10 yards beyond the waters edge, the reefs remarkable ecosystem offers an amazing profusion of unusual tropical marine life in 20' to 140' of calm clear water. In the shallow areas be sure to keep your eyes open for peacock flounders, octopus, needle fish and turtles. Or drop down a little deeper over dense coral growth to see puffers, moray eels, parrot fish, lobsters and even sea horses. A unique dive site for all abilities and especially good for macro photography.